I attended Battlefoam's Wild West Shootout tournament recently and had a chance to sit and chat with Romeo Filip, the outspoken ball of energy that is Battlefoam's founder and CEO.I asked him to do an interview for us, and he happily agreed.
So Romeo, how long have you been in the hobby? How did you get started?
Personally I could say that I have been in some kind of hobby my entire life. I have always built model cars, planes, and other weird stuff. I played sports most of the time growing up so table top games never really popped on my radar until later. I actually got started in war gaming about 6 years ago while waiting for a movie to let in. My wife and I arrived early to a new release film and we had to wait about 30 minutes to get in. In the same shopping center was a game store that had a bunch of cool IG guys all lined up and painted. I totally fell in love with the look of the game. I already liked military style games and seeing an army of tanks and troops ready to kick butt was awesome. I purchased my first IG Catachan box the next day.
What games do you play? What is your favorite?
Currently I play Warmachine / Hordes, Infinity, Malifaux, 40K, Flames Of War, and MERCS. I would have to say my favorite is Hordes because I love the Circle faction. There is something about werewolves with huge claws that just does it for me.
What is your favorite 40K army and why?
I started out with IG and really pushed them to around 6000 painted points. Everything from Forgeworld tanks to conversions from plastic card. With all that guard I switched to their enemy in the orks and grew a nice sized 4000 point army with all kinds of green skin goodness. I would however like to say that my favorite army is Chaos, and specifically Nurgle Marines.
Do you get to build and paint your own stuff or are you just too busy?
Busy is the definition of all business owners. We never seem to have enough time to do anything including running our businesses. It's just the facts of owning a company of any size. I do however make time to hobby. I still paint regularly and have been slowly growing my Circle army from scratch to about 50 points painted. (That's a good size army in Warmachine Hordes)
What were you doing before you started Battle Foam?
Way back in the day I was an active duty Military Police Officer in the Marines. I did that for 8 years before I finished out my contracts and started my first business. Just before Battle Foam I owned a company named Diablo Bats. We specialized in custom cut wooden bats for Major League Baseball players. I guess you could say that I went from being a cop, to being a carpenter, to now being a "Nerd Purse Maker".
How did Battle Foam come about?
Battle Foam really came about out of necessity. I got into the hobby and realized that all of the transportation solutions on the market did not satisfy my personal needs. I reached my limit in 2008 when one of my custom build ork battlewagons got smashed while flying with a different bag companies product. I just thought that there must be a better way. I got thinking and working and eventually researched a system that now is Battle Foam. The icing on the cake was getting stuck in a Vegas elevator with four other gamers during the Vegas GT and them noticing my custom foam for my army. All four of them said that they would "pay anything to get custom foam like mine". It's rare to hear people say, "Pay Anything" in today's economy. I knew then that I needed to get started.
You made a big splash when you first came out with Battle Foam by taking shots at Sabol Army Transport. Now I know that is just your personality, but it rubbed a lot of people (not the least of which is Matt Sabol) the wrong way. Do you wish you maybe were a little bit more humble in the beginning?
To be honest, there is not a day that goes by that I don't regret being an a-hole in my early videos. I did not know Matt or anyone at Sabol or any other company for that matter. I just knew I wanted to make a splash. I also came from a business (Major League Baseball) that was boiling over with shady businessmen and cut throat people. I grew a thick skin from that industry and it transferred over to my early promotion of Battle Foam. In Major League Baseball you had to fight for every penny because everyone is richer than you. Nobody gives an inch and your expected to make a splash to be noticed.
Unfortunately for Battle Foam, my lack of tact was a stumble instead of a step in the right direction.
You then pissed people off by suing one of your competitors. Tell us about that.
Do you have space in your Blog for a 3 page answer? Lets be honest, there is always two sides to any coin. In the case of suing anyone you have to have reason. Even if people don't feel the reason is just you still have to have reason. In our case we consulted with our attorney and he clearly found a problem that needed to be addressed. Was is bad form on our part, maybe. Did it need to be done, completely. Would I do it different the next time around, possibly.
You make all your foam in Arizona, but your bags are made in China. Tell us why and how that makes Battle Foam a better product.
All companies today make some part of their product in China. Even products that say made in the USA have parts that are ordered in from China. Currently China is winning the business war with US based companies. What I mean by that is simple. The one thing that China has that the world does not is man power. They are over flowing with human resource. When you have a work force of over 2 billion you can cut costs. This is almost essential in today's business world if you ever plan on competing in any market.
In our case we do things a bit different. All of our raw materials are shipped from the US to our China factory. This includes zippers, fabric, plastic and the many other parts of our bags. Once these raw materials arrive they assembled and shipped back as Battle Foam bags. We get the quality of US based materials with the lower hourly rate of man power. As for the foam, that is all made in the US. We keep all foam cutting and construction in our US warehouse because of our patents. We still to this day have secrets that people don't yet know. We would hate for that to get out. ;)
I think the biggest part of our business that sets us apart is our creative side. We constantly create new and exciting products for the miniature industry. This may be in the form of private label bags for our partners or new foam cut outs. No matter what, we always have something on our calendars that is due to release. We also offer the only LIFE TIME WARRANTY on foam in the business and we give people a trade in option to send us their old bags. This along with really durable materials with all of our goods puts us a step above the rest.
Have you talked to Games Workshop and how do they feel about you and your success?
Oh boy, this is a tough one. How do you comment on this question and not upset people. I'll make it sort so it does not sound mean. Let's just say that GW is not a fun company to work with.
You have great relationships with just about every other game company out there. What is the value proposition for them working with Battle Foam?
Let's be honest, we treat partners like gold. I don't even want to be modest on this question. We simply treat every partner as if they are the only partner. I think the key in working with us is that we listen to the needs of the partner. We don't just simply slap together a bag or foam design that we like. We don't take the cheaper easier way out. We sit with each partner and analyze their business with them on a transportation level. We discuss options and advertising strategies that will help grow both brands.
Than we go to work in producing a sample product they can test and put their seal of approval on. Only after our partners are completely satisfied with the end product do we bring it to market. Our partners have input during the entire creative process and final delivery. After the hard work is done we simply maintain the stock required and keep our partners informed. It has been a win, win situation with each one of the companies we have teamed up with.
What is your goal with Battle Foam?
The end goal with Battle Foam is to help all gamers. We don't get tied up with numbers and bag counts. We focus on the individual customer. When we know that all of our gaming customers are happy we would have reached our goal.
What about Battle Foam are you most proud of?
I think I would have to say our production team. We now have to locations in the US and UK. These two locations are manned by over 18 full time employees that are dedicated to making these bags and foam. Without our team we would be sunk overnight. The guys we employ are some of the hardest working people I have ever met. They come in early and they stay late because they believe in the cause. A nerdy cause, but a cause none the less.
You recently opened a game store, the Battle Foam Gaming Saloon, as part of your facility. Was that because you just wanted to have your own place to play? Running a game store is a whole endeavor in and of itself.
We actually opened it for people to preview our products. That turned into a full store when we realized that we had plenty of room to really trick it out. With 9 full size tables, a paint bar, 3 plasma TV's and a boat load of product we love it. We finish up work and walk 30 feet into our game store. It's totally cool to take out your daily frustrations on your opponents army. Makes for a good night's sleep.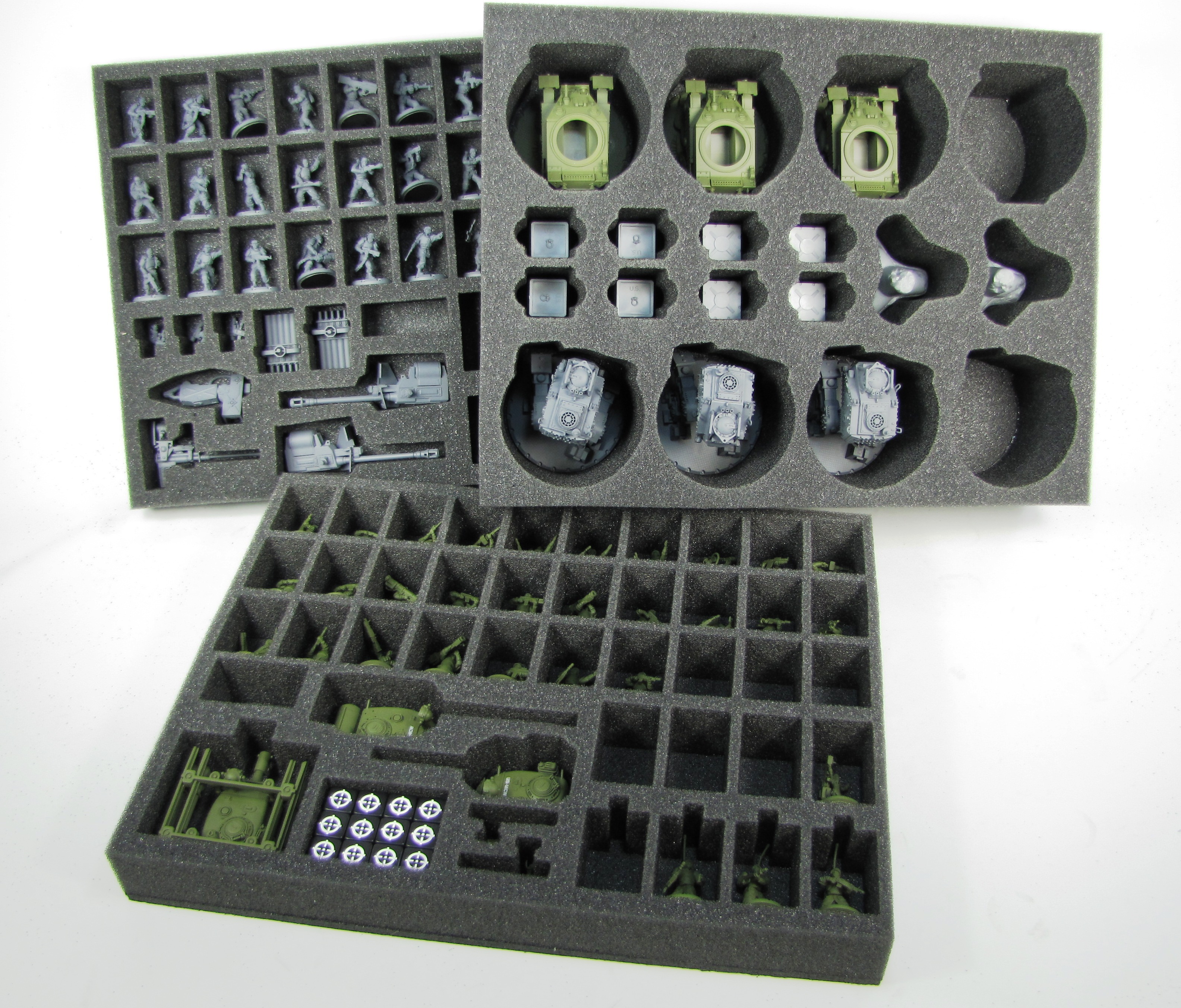 What does the future of Battle Foam look like?
That is really interesting to ask. We have a bunch of new things coming out this year. The X-Board Delta, Stacker home storage unit, MagnaRack bag insert, Black Label cases, and a bunch more. That's just on the Battle Foam side. We also opened a second business called Battle Foam Designs. www.battlefoamdesigns.com will provide customers with custom cut foam for guns, tools, cameras, and a world of other goods. That site is currently up now and will be fully operational on January 16th.
Some of us who know you and your lovely wife Jama, want to know when you are going to stop making her work and give her some kids?
If giving her kids means the super cool dog I got her last year named "Miles", then she's good. We have no time for kids Alec. Now stop getting me in trouble.
Thanks to Romeo for his time!