The biggest and best Floorhammer game in the world is every year at
Siegeworld
.
From Kirk Damann (Grandmasterspectre), Siegeworld Founder:

There was much carnage to be had.
Some basics.

A little shy of 200K points.

We used a new diamond style deployment which gave every player two flanks (each with a different player). I think it worked very well and made the game a little more fluid. It also resulted in much more titan close combat. The power of the titan CCW became very clear even on small chassis vs. big guys without one.

We used the AA overwatch rule. It worked very well with flyers having trouble getting at positions with good local AA protection, it also clearly steered aircraft to less tough nuts to crack. However, where a concentrated landing was attempted with good support, the AA got beaten down and the landers came in.

Str D template reduction was used, which worked very well (as always). Titans were really after other titans.

The mega gargant proved able to fend off dreadnought melta strikers, but still had a fight, the ability to carry good troops in a titan really helps survivability.

Terminator on Terminator gets ugly. The Black Templar/Imperial fist front resulted in 100+ terminators facing 170+ terminators.

This battle really showcased how tough Armor 14 is. In both tank on tank fronts my forces were slowly whittling down the enemy, but in one I had demolishers vs. battlecannons and the other was russes vs. pred annihilators. In total, I only lost about 5 tanks from both combats, where over 30 were involved causing easily twice that much damage, but mostly against lighter chassis.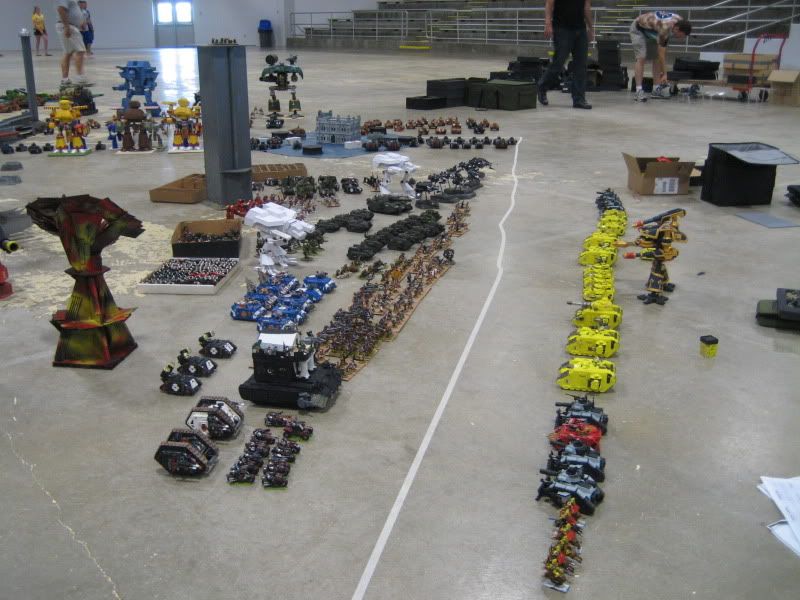 Some highlights.

Two reaver titans going nuclear the same turn (one actually damaged the other).

The mishaping templars. 5 terminators mishap landed in the middle of nowhere (in front of my warlord advance). With my warlord advance having wiped out the opposition and advancing, it turned its guns on them as the only thing in range (basically, it was meaningless, as the terminators would never do anything). The squad could not fail an inulnerable save and absorbed the fire of 2 shadowswords and an entire warlord before finally dying.