APOCALYPSE - THE ASSAULT ON STOMPAKROPOLIS
Last weekend Treefort Games sponsored an Apocalypse battle. Treefort is one of the top locations in the country for BIG Apocalypse games. Plenty of great terrain and Titans.
"Reports from the Zouwaechua Sector...
On the planetoid of Hytrophia (aka Ork's Drift) a FLEET of Mega Gargants has been constructed. Each of these monstrosities is a match for a dozen Baneblades and 4 of them is more than a match for any SpaceMarine Chapter by itself. The waagh leader is one called Thraka Maurice and is rumored to have secretly tapped into advanced imperial engineering records for plans on weapon construction. Maurice is aparently in negotiations with various Chaos factions to contract a means of transporting the Gargants off Hytrophia.
All forces and allies are immediately called for action in a desparate assault on Hytrophia's main hive - Stompakropolis."
We had 279,000 point with roughly 120,000 in defenders behind a walled industrial complex with Necron support being attacked by Human and Eldar forces totaling 159,000 in the attack.
The Orks and Chao fielded 4 Mega gargants, 2 Chaos Imperator Titans, 2 Gargants and half a dozen stompa. The Mega gargant drivers fortunately did take full use of the titans but did cause heavy causalities.
The Imperial and Eldar forces brought 2 Eldar titans, 1 Imperator Titan, 2 Reavers, 4 Warloards, 30+ Baneblade types and 12+ flyers. Also two dozen land raider, predators etc focused on killing the titans.
The battle went too quick for the titan drivers to make the more than one effect turn of shooting before being wrecked. In my corner it took about 30,000 point focusing on the titan and my air squadron (6 thunderbolts and a marauder) to wreck the Imperator.
Great time was had by all, and some great terrain. But only a few apoc explosions.
Marines in the Southeast Corner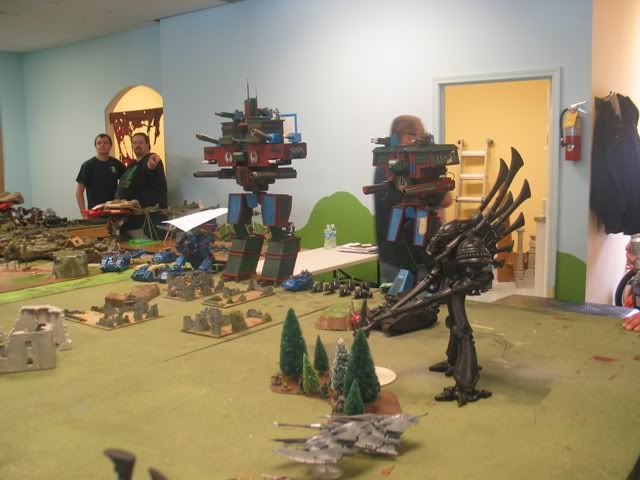 Imperator Titan and Eldar Phantom
Mega Gargant – More pic of their construction on the Treefort Games Facebook Page
Mega Gargants and old-school Stompas
North end attack at the gate
Imperator!
Gurkous White Skull Marines
Southern Corner Necrons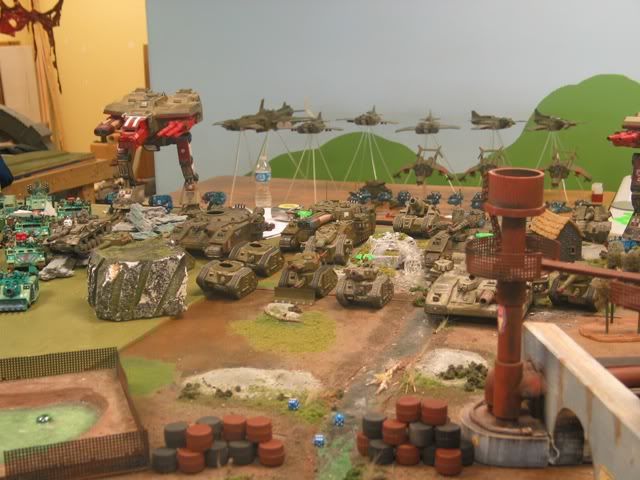 Imperial Guard and Titans attack. Speeders, Flyers and skimmers off in the distance coming in to attack. (Actually sitting on the reserve table on turn one, but a cool shot)

More to come.....