Greg Teeuwen is up to it again! Another Ork conversion from SoCal's biggest Orc Warboss!
From Greg:
This has to be the funnest project I've done to date. The first bomber was definitely worth building, but over the last couple years, I've adopted several building techniques. Armed with these new skillz, I decided to build a better bomma.

As before, I started with a 1/48 scale B24 Liberator. There's just something about this type of bomber that really appeals to me (when thinking of Orky bomma styles). It's big, clunky, and just seems like it's ready to fall out of the sky- perfect for an Ork bomma!
One of the techniques I adopted was to widen the bodies of 1/48 scale planes. This takes away the tubular look and makes room for stuff I want to put inside. And since I want to put more stuff inside, I cut the body in half so I can manage the hull bits better.

Of note, the sprue ribbing holding the hulls together is only temporary. I got the width where I wanted it and temp-tacked the hulls in place. I'll lay some interal ribbing and flooring as I go.

Essentially, I'm making room for an Ork Krew. In the last bomma, I had only a couple gunners and a cockpit krew (and they were squooshed in so tight as to not be noticeable). As this bomma will be a master showpiece to my army, I really wanted to go all out with regards to gunners and krew. So, this is how I imagine the gunners will be distributed (3 on each flank, 2 on top, and 1 rear gunner)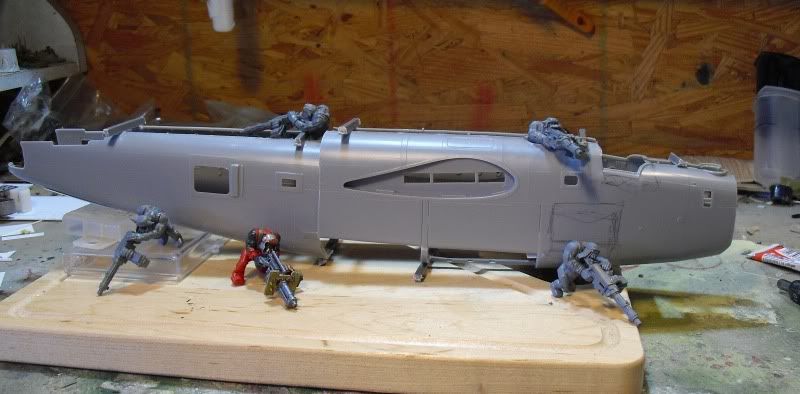 My building plan intent is to have all the gunners temp-tacked into place, lay some flooring and ribbing securing the hulls in their permanent positions, then completely painting the figures. Once the figures are done, I'll insert them permanently, then build up the outside of the plane.

Unfortunately, I don't have enough gunners, so I'm forced to start other parts before continuing with the hull.

Might as well do the wings… I quick-built the engines (exhaust tubes really) of the other bomma and didn't do much to make the plane look all that junky, clunky, or Orky. With the availability of 40k flyer engines, I decided to step up my kitbashing a level. Not only that, I was going to ruin the perfect smoothness of the model and make it look more junky (another skill improvement I picked up).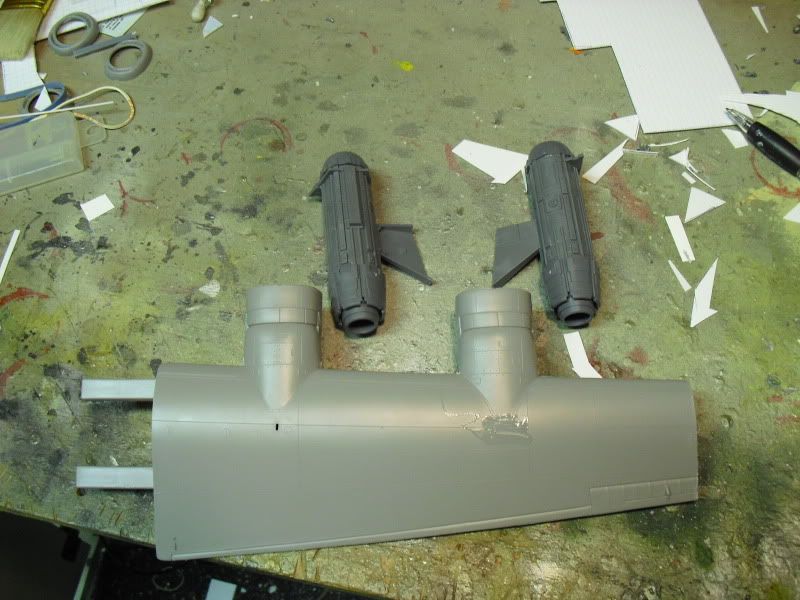 As I tidy up the wings, you can start seeing what the final product will look like.