Greg Teeuwen, whose
White Knights
I featured previously, is a master of conversion. His Ork army is amazing and featured here.
This is my Ork WAAGH!, led by the infamous Warboss Sheepshagga.
As boyz are a dime a dozen and overly common, an Ork Waagh gets its character from one or two key leaders, but primarily from its vehicles.

With that in mind, I scratchbuilt or kitbashed every single vehicle in my army, and the army revolves around its key (and very demented) Warboss Sheepshagga.

Sheepshagga (the character) actually began as a non-hero looter boy from the game Mordheim. I put my warband together with "looting" in mind, so I had some boyz carrying bags of stuff, and one in particular was running off with a sheep under his arm.
The figure was so funny and popular with the mordheim group that he was given the name "Sheepshagga" by my fellow gamers. The sheep he was carrying was given the name "Muffin" and a silly love story soon followed. However, laughter turned to terror when Sheepshagga had actually earned enough experience in the game to actually become a heroic figure and he was soon tearing foes apart. Pretty soon, it became a competition amongst my opponents to see if someone could actually kill Sheepshagga. Oddly enough, he never perished.

As I translated over to 40k and built up a Waagh, I kept the character, updating him as necessary. I've made several version of him, but with the release of Black Reach, I took advantage of the nice Warboss model and created a 5th edition version of Sheepshagga. Muffin actually counts as an attack squig (+1 attack). The tire he's standing on is symbolic of his Speed Freaks beginnings.
With the key leader in place, I then wanted my army to stand out from all the other Ork armies by having my own vehicles, not simply buying ready-made kits. I started my Waagh during 4th Edition, using the Speed Freaks ruleset, with most vehicles fast and light. However, as 5th Edition and Apocalypse came out, I beefed out my army quite a bit.

Most of my Trukks are kitbashed from WWII models.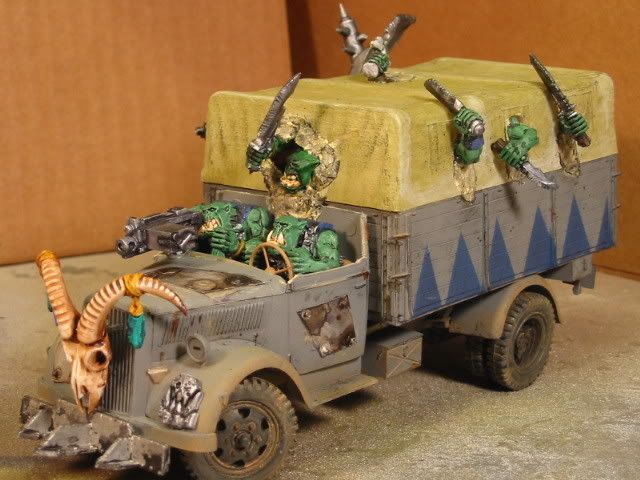 My first Stompa (long, LONG before Stompa kits were available). This is lovingly named, "Da Nutcracka" and was a terror to behold (before Apoc really took hold and now Stompas are everywhere). In fact, when I first built this, there was so little fluff about stompas that one had to imagine what it might look like or how big it would be. All told, this Stompa cost me about $12 to make. And with the release of newer and newer Apoc rules, I've actually modified it quite a bit, allowing me to swap out arms for different stompa weapons.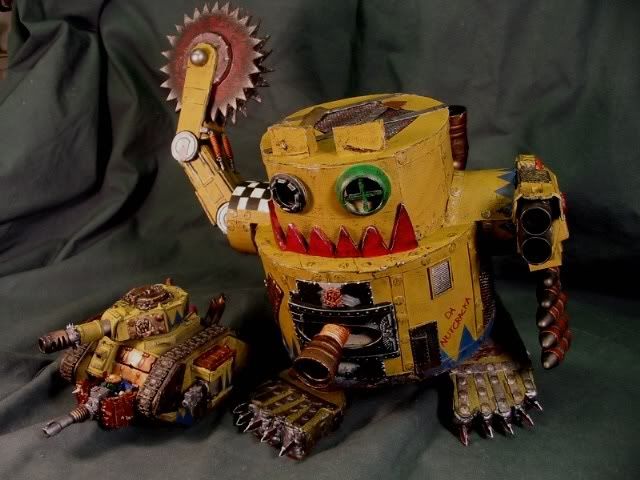 Sheepshagga's old Speed Freaks ride- counted as a trukk.
Deff Koptas.
More of Alan's army tomorrow!