So, you have decided to step up your game and play Apocalypse. You read my last article and know there is a bunch more besides what you will find in your codex; Flyers, AA, Warmachines, etc. And for most of us, budget is the major issue. We don't have thousands of dollars to spend on 40K and so we need to build our army slowly and steadily.
TROOPS

So first thing to do is make sure you have enough Troops to take and hold objectives. As I have mentioned, we play a house rule that anything with a WS can hold objectives. So Terminators, Dreadnoughts, Killer Cans, monstrous creatures, they are all invaluable. BUY MORE. You want stuff to hold objectives.
And your troops should ALL have rides. We jokingly say that the first rule of Apocalypse is NO ONE WALKS. You are outside your ride or not in cover, you are dead. So make sure your infantry have rides or Deep Strike or Drop Pods, whatever.
AT

Take lots of AT weapons. Melta is the order of the day; Lance weapons, awesome; Railguns...nails! Yeah, you get the picture. Oh and Manticores are S10. "D" weapons...well, we will get to that in the Warmachine section, but auto-pen and +1 on the damage chart!
The thing is there will be so much armor that you want LOTS of AT. My tactical squads have Melta guns and Lascannons. Sgts. have combi-meltas.
OK, so far this is all pretty basic stuff. Build your codex army to hold objectives and destroy armor. Now, let's get into the Apoc stuff.


FLYERS AND AA
This is an area that players ignore. But you can't. Flyers can move anywhere on the board and so are your best way to get to an enemy's back lines or hard to hit units or vehicles.
With the advent of the Valkyrie as a Flyer, we see the democratization of Flyers. You don't need to buy a Forgeworld model to get Flyers. $ 50 and you get a flyer. And rumors say that there will be more and more flyers on the way for other races. We already have seen the Stormraven in the Blood Angels codex and the Razorwing and Voidraven in the Dark Eldar army. GW is supposedly releasing more flyers this summer. I fully expect to see rules for the above mentioned models, skimmers in 40K, to be used as flyers in Apocalypse. I would include the Caestus Assault Ram in this as well.
The Forgeworld Eldar Nightwing
The game of Apocalypse is meant to be more of a grand battle. A big cinematic event. In war, air power is critical, and the game of Apocalypse is the same way. We are seeing an arms race here and you need to be part of that race. If you have an Imperial army, build an Imperial Navy force of Valkyries, Thunderbolts, Lightnings and Marauders. If you have a Xenos army, then either save up for some Forgeworld models, or scratchbuild your own. There are some amazing scratchbuilds on The Apocalypse40k.com forums.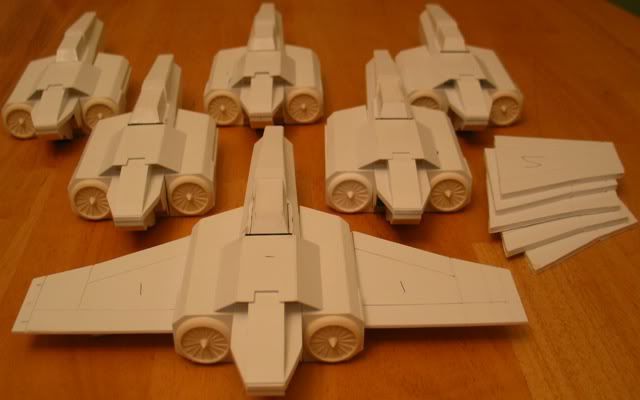 Scratch built Thunderbolts under construction by Psypath
And if you are going to face flyers, you need some AA. In Apocalypse, you need a "6" to hit a flyer, no matter your ballistic skill, unless you have an AA mount (or a pintel mount). So now Hydras have been given AA mounts. So for 75 points you can now have VERY effective AA.
So with cheap flyers and cheap AA for the Imperium (and thus traitor armies as well), I expect GW to be giving the same to every race by the end of the year. So you better put this in your list of things to add to your army. Not having it will mean you are going to be playing at a disadvantage.
Next article we will discuss Warmachines.

Alec